Email finder software solutions or email hunter are helpful tools that can help you find business email addresses quickly. All these solutions work with a pre-recorded programming algorithm that helps collect business email addresses.
The process helps you get all business email addresses based on the domains or first and last names. Usually, email hunting works in the two most important forms. The basic method includes email finding based on the first and last name of the user along with the domain name, the other one is based on domain name only. Once searched, both these methods show a source list from where the email ID is parsed from. This helps you validate the information.
Let's shed some light on both the methods to know how email finder software works.
Basic Email Finding
Basic email finding further splits into two individual and bulk email finder. Let's have a look at both of them.
Individual Email Finder
Individual email finding is the process of finding one business email address using the first and last name of the user along with the domain name.
The software will allow you to put this information into the fields available and check the database for the information you have given. If such an email ID exists, it will show it to you on the list.
This is the most basic and most used method to find email IDs that matter. Email finder software that comes up with validation functionality also verifies the email address so that you become more confident while its usage.
Bulk Email Finder
As the name suggests, a bulk email finder is done to get multiple email addresses at one go. In this method, you just need to create a spreadsheet with first name, last name, and domain name. Once done, the software gives you an option to upload the file so that you can get multiple email addresses at the same time.
This method not only saves time but also gives you access to hundreds of email addresses in just a few clicks.
Domain Search
Email finding by domain search requires a domain name of the company from which you want to get email IDs. This method is also split into two. Let's discuss both.
Individual Domain Search
Just like the name-based email finding, you will have to put the desired domain name in the field and all the email IDs associated in the database will be shown on the list. This can help you get the email addresses of all employees working in the company. Email validator makes sure that the email addresses that you are getting are functional.
Bulk Domain Search
Bulk domain search, on the other hand, helps you find email address of multiple domains. Uploading an excel spreadsheet of all desired domains listed and the software gives you the list of all email IDs associated with those domains.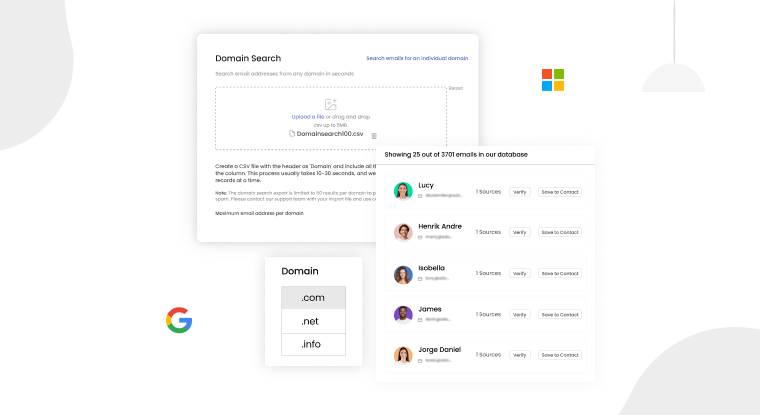 Overall, this is how a normal email finder software works. It makes sure that you're getting email addresses to upgrade your e-mail list which can be used to perform email marketing activities.
Many email finder software solutions also come with a reporting tool that helps you keep a record of everything you do in the software. These reporting tools help you keep a record of the email IDs that you have searched for, ran validations for, etc. It also shows all the domain names that you searched for. Having these functionalities not only helps you keep track of every action but also makes data-driven decisions. Thus, enhancing email marketing activities, improving your open rates and deliverability.