Electronic mail (Email) communication is the most vital form of communication in the 21st century. According to David Newman, "Email has an ability many channels don't: creating valuable personal touches-at scale."
For Digital marketers, finding emails online is essential to reach your prospects. Also, getting your cold email across to the potential partner could be a complex process for business owners. Still, not to worry, several email finder tools would make it easier for you to verify the validity of the email address and find the email address of people with whom you share similar interests and who might be interested in your product and service.
Top 10 Email Finder Tools of 2022
We have conducted research to determine the top ten email finder software for you. We have compared these email finder tools according to their pricing, specification, and user review and have selected the top ten. They are;
1. Finder.io
The competitive advantage this email finder tool has over all others is that it generates accurate email addresses. With over 430 million email addresses in its database, it can create and verify the validity of anybody's email address.
Pricing
It is free for up to 10 users. Thereafter, you can access its full functionality for just $14.99 per month.
Specs
Finder.io allows you to import email addresses from other third-party applications such as Google Drive, OneDrive, and Dropbox and verify them at a go. It also works with virtually all domains such as Yahoo, Gmail and the likes.
Review
It is unarguably the best email finder tool. It holds a large number of email addresses in its database and cuts across different organizations and fields. Finder allows you to find email addresses and create a list of verified email addresses, automatically save the list and add them to e-mail campaigns or broadcasts as many times as you want.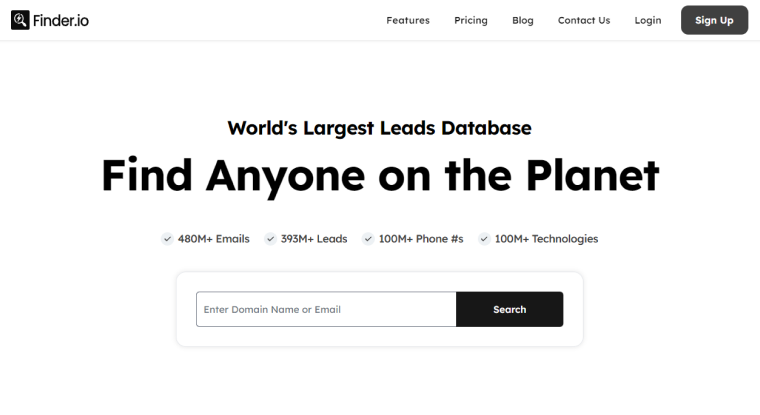 2. Hunter.io
Hunter is one of the top email finder tools as it is easy to use and gives valid verification of email addresses. With this email finder tool, once you type in the company's domain, it helps you fetch the kind of email that suits your purpose.
Pricing
This email finder tool has five different pricing plans; the first is the free trial that allows you to do 25 searches per month. At $49, you are eligible for the starter plan and can perform 500 searches per month. The growth plan enables you to go for 2500 searches per month for $99. To access the pro plan and perform 10,000 searches, you need the sum of $199, and lastly, the enterprise plan goes for $399 and enables you to search for 3,000 email addresses in a month.
Specs
Hunter allows you to share mailing lists with multiple users, making it one of the best for large email marketing campaigns. This email finder tool provides every email address with public sources and updates an already existing list. It can also be integrated with Salesforce, Zapier, Pipedrive and Hubspot.
Review
This email finder tool has no verifiable source to check generated leads. It deducts separate credits for developing and validating emails. It has the domain search feature, bulk domain search feature and even the social network search feature, giving you several search feature options.
3. Snov.io
Snov.io is an email finder tool that allows you to find leads, verify email addresses, track your mail progress, and initiate cold outreach. With this email finder tool, you can find other prospect details such as name, company details, and social profile with just the email address.
Pricing
Apart from its free trial that gives you 50 credits. There are five pricing plans available; at $33, you are eligible for 1000 credits, $66 qualifies you for 5000 credits, 20,000 credits for $141, 50,000 credits for $241, and $482 for 100,000 credits. All pricing plans are monthly.
Specs
It allows export to CSV, XLS and Googles Sheets. Snovio has the email-verifier feature, email tracker feature, and email drip campaigns.
Review
Even though it provides for API integration, the direct integration with other software is not sufficient. A sizable number of users do not find this software reliable.
4. VoilaNorbert
This email finder tool aids in finding leads, building a mailing list and extensive contacts with prospects with whom you share similar ideas. Norbert claims a 98% success rate in verifying the validity of email addresses.
Pricing
This email finder tool has 50 leads for free, 1000 leads per month for $49; 5,000 leads per month for $99; 15,000 leads per month for $249, and 50,000 leads per month for $499.
Specs
This email finder tool API allows you to integrate real-time email findings. It provides integration with third-party applications such as LinkedIn. It also has the team account option.
Review
Voila Norbert allows you to reach corporate individuals, blogs, and authors and build links while spending out your cold emails. Alongside validating the email addresses, it also shows the social media data of your prospects. However, it sometimes finds no longer valid emails and sometimes shows no email address in the search query.
5. Prospects.io
Prospects.io is an email finder tool that has multichannel sales automation platforms integrated into it. It helps build high-quality mailing lists that combine personal details, social touches, and follow-up calls into a multichannel campaign. This allows you to connect with individuals and build relationships across the board.
Pricing
To have access to the full functionality of Prospects.io, the pricing plan starts from $89 per month for 250 email finder credits to $149 per month for 1,000 email finder credits.
Specs
Its advanced API (the whole plan) can be integrated with top CRM and top-party apps such as CSV and Google Sheets. This email finder tool also has a multichannel sales automation platform that helps you boost your outbound sales.
Review
It allows for social URL search on LinkedIn only and bulk domain search. Also, it can be slow to load generated email addresses and other information. The free trial does not allow you to test specific emails within a campaign.
6. RocketReach
RocketReach describes itself as the first-degree connection to any professional. This email finder extracts data seamlessly using advanced technology embedded in it. It also allows you to improve your marketing, recruiting, and sales efforts.
Pricing
As a first-time user, you are eligible to test the product. Even though you make a subscription per year, the contact lookups are provided monthly. Afterwards, the subscription plan starts from $588 per annum for 170 contact lookups, and there is also a higher plan of $2,988 per annum for 1150 contact lookups.
Specs
RocketReach has email verifier tools and allows you to engage in email campaigns. It has the domain search feature, and company profile searches and enables bulk email messaging.
Review
The credit gets deducted whether it generates valid or invalid email addresses. It does not have a free plan except for first-timers, which is at the beginning of usage.
7. Lusha
Lusha is an email finder tool that allows you to locate and initiate business-to-business sales and partnerships. With Lusha, you get personal data such as email address, company name, and phone number, among others.
Pricing
After signing up as a first-timer, This email finder tool offers you five free credits per month to generate only prospects' email addresses and phone numbers. The pricing plan starts from $99 per month, which makes you eligible for 100 credits. The whole plan charges $199 and gives you 300 credits per month.
Specs
It is a popular email finder tool. It has users from over 120,000 companies from across the world. Lusha has advanced search filters that help find your ideal prospects in a twinkle of an eye. It has an extension that automatically scans the visited profile page to filter out personal information.
Review
It does not generate valid emails consistently. The trial version has limited credits and can perform few functions. The social network search is only available for Twitter and LinkedIn.
8. Aeroleads
Aeroleads is a powerful email finder tool that enables you to find accurate and relevant email addresses and phone numbers of individuals and business organizations.
Pricing
Aeroleads has four flexible pricing plans; they are: The Takeoff plan at $49, qualifies you for 1000 credits per month. The Climb plan at $149, which gives you 4000 credits per month. The Cruise plan at $499 with 15000 valid credits per month. The Enterprise plan is activated based on your credit needs.
Specs
This email finder tool allows integration with Mailchimp, Salesforce, Zoho CRM, and PipeDrive. Aerolead enables you to find prospects and track leads on Crunchbase, Angellist, Xing and LinkedIn. It also allows you to export and import data from CSV.
Review
It has an advanced algorithm tool that verifies the validity of email addresses while checking. However, results and information generated depend on the prospects' freshness of details, so if a prospect does not have updated data, it shows outdated information.
9. GetProspect
GetProspect is quite popular because it generates exact email addresses in bulk and in real-time. This email finder tool enables you to search contacts by name or domain and fetches their data on the internet.
Pricing
GetProspect has a free trial offer that enables you to search for 100 emails per month. Their paid pricing plan ranges from $49 per month, which allows you to search for 1000 emails to $399 per month, which will enable you to search for 50,000 emails.
Specs
This email finder tool has an advanced API or human-readable filter that helps you filter and gather the correct information to generate leads and extend partnerships. Once you upload the company name on Getprospect, it displays the verified corporate emails of its employees.
Review
GetProspect has the team account option and allows you to export generated and verified prospects' mailing lists. This email finder has a limited source of data generation over third-party apps; LinkedIn only. It sometimes contains outdated or incomplete contact information.
10. Anymail Finder
Anymail Finder has a highly reliable API that helps you source any person's email address by typing just the name or domain in the search box.
Pricing
The free plan allows you to verify 90 emails per month. The paid Pricing plan starts from $49/ month (1,000 emails), $99/ month (5,000 emails) to $149/ month (10,000 emails).
Specs
This email finder tool can be used as a web or API-based service. Anymail Finder has the team account option, the domain, and the bulk domain search option, and allows prospect mailing list export via CSV. It can be integrated with Gmail, LinkedIn, salesforce, and API calls.
Review
It has automatic mail verifying tools, team account options, domain, and bulk domain search options, and can generate email addresses by typing the prospects' names. However, as reliable as this email finder tool is, it sometimes displays candidates' misleading and confusing contact details. You do not pay for invalid email addresses generated or those shown multiple times.
Conclusion
email finder tools have been developed to automate finding and verifying email addresses for your cold outreach needs. They are simple, easy-to-use tools that save you a lot of time and get your emails in front of the right partners.
These tools are handy for organizations and business owners who need to regularly identify hundreds or even thousands of email addresses. According to Wayne Davis, "The lead generation process starts by finding out where your target marketing 'lives' on the web". These email finders have been developed to locate where your target "lives" on the web.
With a reliable email finder tool such as finder.io developed by 500apps, you have several tools and features that enable you to reach your prospects directly and generate leads across several organizations. Try email finder free for up to 10 users.