The General Need to Find Email Addresses
A collection or long list of emails gathered by an organization or business in a bid to stay in contact with its customers is regarded as an email list.
The email list helps to establish a secure line of communication between the business and a long list of customers so as to facilitate the exchange of information about updates, discounts, and other details regarding the business and how it affects the interest of the customer.
Find Anyone's Email on the Web in Seconds Sign Up 14 Day Trial
It is very important to have an email grabber or perhaps put together an email list because it facilitates a strong connection between customers and social media. Furthermore, it facilitates a higher click-through rate more than other medium such as Twitter.
A HubSpot report also shows that "emails generate $38 for every $1 spent, which is an astounding 3,800% ROI, making it one of the most effective options available." This also emphasizes the fact that emails help the brand to reconnect with people who expressed an interest in their product or services.
In general, it can be said that in carrying out any sort of marketing campaign, an email outreach is essential. Although, only about 8.5% of outreach emails receive a response according to The Moz Blog, this is a very poor rate. A major reason for this is the inability to find the right contact information.
This blog takes a look at some of the best ways, products, and websites that leverage technology to allow anyone or organization find emails or build an email list of different people on a particular niche of interest
Best Websites to Find Email Addresses
Maybe you deleted the email addresses or lost access to the device or platform on which it is stored, or perhaps you are looking to build links and emails of a particular target audience, there's really no need to start doing guesswork or appear clueless. The following are some of the best websites to find email addresses .
Finder.io
This software lets you find, verify and connect with customers in a very short period of time, thus enabling companies and organizations to generate and keep up with leads for the purpose of business growth; exactly like the Fortune 500 companies.


Find Emails from your Target Company

Sign Up 14 Day Trial
This tool makes it very easy to find and connect personally with top officials and key decision-makers of different organizations who are very integral to achieving the goals of your own business. Alongside this functionality, the tool affords you with awesome validation and reporting features as well as a powerful email search.
With just the first and last name of the target, domain name, or business name, just about any email can be found as well as the authenticity can be verified. The whole functionalities embedded in this tool can be used to enhance lead generation and improve confidence scores.
Hunter.io
This is a very good tool for finding emails and contact information about a person or group of persons in a particular niche or website. When trying to reach out to a list of contacts, all you need do with Hunter is to first download hunter's chrome extension and visit the website upon which you are trying to find emails. When on the site and you click on the Hunter chrome extension, the Hunter hunts for the emails on that website, providing a list of emails and other contact information.
By merely knowing the domain name associated with the individual or set of individuals which you are searching for, Hunter makes it very easy to reach them in just about a fraction of a second. Hunter has about one hundred million-plus emails indexed in an orderly manner on their database; this makes it very easy and straight-forward to quickly find the email of anyone who falls within a particular domain.
The email founder uses quite a number of signals to find proven or the most probable email address of anyone in a very short period of time. In doing this, hunter goes one step further in ensuring that a complete check of the email address enable you send your emails with a lot of confidence.
One of the most loved features about the Hunter email finder and verifier tool is data transparency. The operation of the software is governed by the principle that emails have to be sourced for using methods that are transparent to others. As such, all emails found using the tool and displayed to the user are sourced via public repositories.
Sellhack
Sellhack is a tool used for getting emails that is more suitable or apt for use by sales teams. It helps to gather the emails of prospects, leads, and potential clients. To ensure you are getting only authentic, valid, and deliverable emails, Sellhack has a 12-step verification engine.
With an algorithm well-suited for automating a sales pipeline, this tool goes a step further than just gathering the emails of prospective clients to go on and ensure that there is a follow up on these clients after having established the first contact. It has the functionalities to set reminders with emails, phone calls, etc. It tries to mimic a real-life sale process.
ClearBit
This is one of the fastest and easiest ways to find any business email. It provides users the alternative to search for business emails via any means they are more comfortable with. i.e. either right there in your Gmail app or on the web browser.
Boasting specifically about ease of use, user-friendliness, and intuitiveness, this tool really does live up to the task of providing the email or list of emails that users require in a very short period of time and with ease of course.
It requires only the domain name and probably a few specific name details of the recipient. With these details, ClearBit Connect promises to provide accurate information about the role of the individual, industry location, company size, and financials of the recipient in question.
To use the tool, all that is needed is to simply download the chrome extension and search right away from the comfort of your inbox.
Google
Being an ultimate search engine, Google helps in finding the desired emails as well. With just the right search queries involving the use of the right characters in a specific order, Google can help generate a list of emails as well as find a particular email.
There's just about nothing that cannot be found on Google. Likewise, it is almost impossible to not find an email address or contact information that has found its way to one point or the other on the web.
With the right keywords about the email address in question, you can easily find any email ID on Google.
Discoverly
Discoverly helps to discover emails by asking users to input a few possible combinations of the email while it points out the most likely one.
This tool provides searchers with context as regards the contact information of the individuals being searches as it gathers and aggregates the person's social information across social media platforms like Twitter, Facebook, Gmail, etc.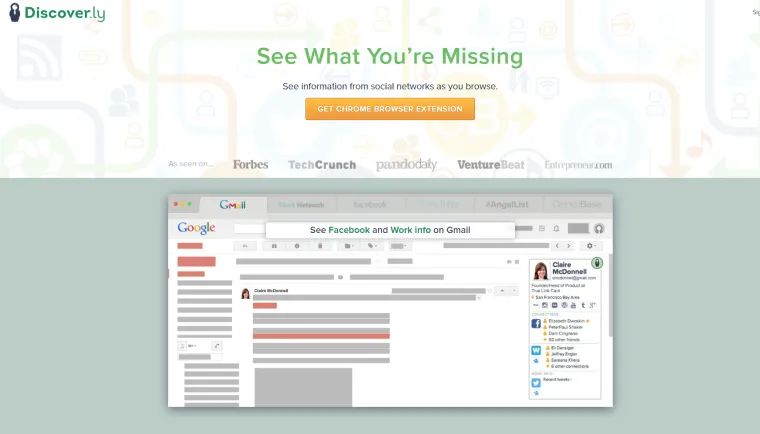 Discoverly helps to reveal and now save a more comprehensive and complete social contact information about anyone you so wish alongside their online profiles. As the name implies, it helps to discover all the information discoverable about the target.
In doing this, it helps to facilitate a kind of synchronization between social apps such as Facebook, Twitter, Gmail, and LinkedIn. It is perfect for sales and recruiting officers, job hunters, and entrepreneurs alike.
RocketReach
This tool serves as a first-degree connection to any professional as the tool and platform serve as one of the world's largest and most database of emails and direct calls.
The tool is able to cover as much as 250 million emails and contact information ranging from personal and work emails, phone numbers, and full contact information across 50 plus websites all in a single search.
RocketReach aims to bridge the gap between professionals, companies, and individuals who need them all around the world in the twinkle of an eye. With over 6.8 million users as of today, the right prospects are reached with just the right message for them every now and then.
Sales, marketing, recruiting, and any other niche of work that requires reaching out to people especially via mails are all benefitted and covered by the offerings of RocketReach. It is able to do this effortlessly while ensuring that other efficient apps that such an organization might be using such as salesforce, Hubspot as well as a whole lot of top CRMs can be seamlessly integrated to boost efficiency.
VoilaNorbert
Voila Norbert provides help by letting organizations personally get in touch with key individuals that matter in the overall process of trying to reach out to key decision-makers.
Spanning across PR, business development, sales, and recruitment, Voila Norbert lets you meet the right people, and get personal with them by helping you find out their emails.
Voila Norbert email finder tool has about as high as 98% success rate with an accurate and up-to-date database of B2B contact information at your disposal. It allows users to reach out to blogs, build links, and spread content for the benefit of writers and other bloggers.
It of course has a lot of things in store for business developers, PR officers, salespeople, and marketers as well. In general, it allows every one of them reach out to whosoever they wish for the actualization of their goals and plans leveraging on the fact that email is one of the best ways of building long-lasting relationships with anyone important to your business and career goals.
Contactout
Having gained the trust of about 76% of the Fortune 500, Contactout is one of the major ways to find anyone's personal email and contact information. They pride themselves as one of the world's best-recruiting intelligence. The email finding tool triple verifies email addresses and has a 97% accuracy rating.
Hiretual
It's a powerful Chrome extension that finds email addresses, but also picks up additional information like experience, seniority level, and compensation range.
Hiretual also comes with an AI sourcing assistant. You can submit your sourcing tasks and let the AI assistant do the sourcing for you while you are sleeping or enjoying a cup of coffee.
Finder.Expert
This tool helps to find only verified prospects by domain or using LinkedIn and Twitter data. It is very suitable for HR officers, marketers, and sales personnel.
Conclusion
Building an email list is a very essential step to reaching out to customers and keeping them updated with what goes on in an organization. Furthermore, it is very invaluable to HR managers, sales personnel, and marketers alike in that it helps them to find the ideal audience, talents, and customers.
Find Anyone's Email on the Web in Seconds Sign Up 14 Day Trial
Getting the emails of these people is one of the major steps in getting up close and personal with them. Having to do guess work might sometimes prove to be successful but for only a very limited number of contacts.
As such, the tools and products highlighted in this blog have leveraged technology to be able to scour the web for those emails you need. Check them out and find out how you can make use of them for your personal as well as organizational goals.