According to Clairvoyix tweet, hard bounces are a result of invalid or non-existent email; there is an error in letter or number, or such an email has been closed. Bounced email occurs when your email fails to deliver, gets stuck on the way, or when the recipient does not get the email. In email campaigns, the higher the bounce rate, the less successful the campaign will be.
The bounce rate could be in two forms; the hard bounce and the soft bounce. The hard bounce is a result of a closed, invalid, and non-existent email address. Mails sent to these email addresses will not be delivered because the recipient addresses are not functional.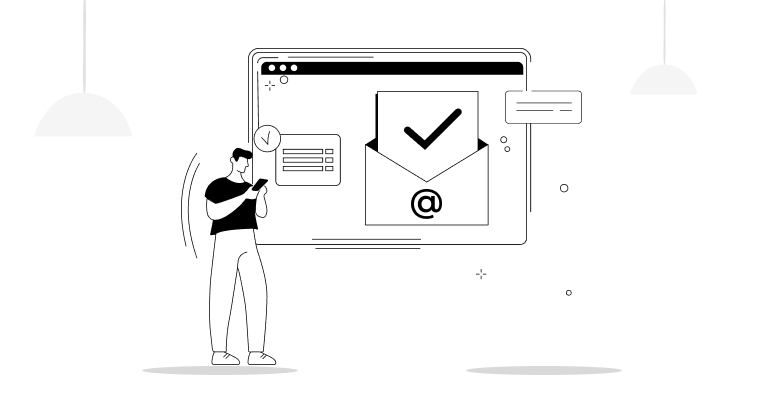 On the other hand, soft bounces are a minimal and temporary problem. The emails do not get delivered for several reasons, such as filled recipient inbox or connection errors on the recipient's device and a host of others. In this case, the recipient's mail server may temporarily hold the mails till the problem gets resolved. In ensuring that your email campaign is successful, you have to put all measures in place to ensure that the recipients receive the mail.
Tips to Verify an Email Address
One of the proven ways to reduce your bounce rate in an email campaign is the use of an email verifier. The email verifier helps to check the validity of the recipient's email address and ensure that your email gets delivered.
The email verifier can be used to track the validity and verify if an email address. Once the email verifier shows that the email address is invalid, it automatically flags it and is removed from the mailing list to prevent the mail from bouncing and get ranked among bounce rates. The following are the tips to make sure your email never bounce:
1. Use of an Email Verifier
Email verifier is a tool developed to check the validity of the email. The automated way to ensure your email does not bounce and to ascertain the validity of an email address is the use of an email verifier. Email verifiers have a verification mechanism already built into them to enable them to detect whether an email is valid or not.
Find Anyone's Email on the Web in Seconds Sign Up 14 Day Trial
Your task as a sender is to send the message to the email address of the receiver, and it is left to these email verifiers to sieve through and establish the validity of such email address. If it's an invalid address, you will be notified, or your email will bounce back but if it's valid, be rest assured that the recipient will receive the email intact.
To make it easier for you, we have tested several email verifiers, and the best in the market is the Finders.io developed by project 500apps. The Finder.io email verifier has been thoroughly designed to find and check the validity of email addresses and prevent bounce.
Finder.io was developed by 500 apps, a New York-based software development company, and it has 396 million email databases. With a full subscription to Finder, you can find or search for email addresses of individuals or corporate organizations with whom you share similar ideals. With Finder.io, You can import email addresses from other third party applications such as Google Drive, OneDrive, Dropbox and verify them at a go. It also works with virtually all domains such as Yahoo, Gmail, and the likes.
While other email verifiers in the market do not give accurate verification for disposable email addresses with the Yahoo domain, Finder.io does and is very reliable and precise in this regard. Using finder.io, You can also create a list of verified email addresses and add them to email campaigns or broadcasts. This saves you the time and energy of compiling email addresses whenever you need them and helps increase engagement.
2. Get Rid of Hard Bounce
What is the need for email cleaning? As explained earlier, hard bounces are caused by invalid or non-existent email addresses; there is no way the email can get delivered, no matter how long you wait. Therefore, you should get rid of those emails as soon as the email verifier detects them.
Most times, hard bounces are hard to detect, the reason for the email bouncing may take a long to be identified. However, the reason is not necessary, what is essential is getting to know that the email address is invalid and do not hesitate to remove it from your mailing list or newsletter subscribers.
3. Verify and Authenticate Email Addresses
How does email verifier software work? One of the tips to ensure your email never bounces is to verify and authenticate the email address in your mailing list. The periodic email address verification is essential in email campaigns. Constantly update your email list using an email verifier.
At the end of every email campaign, you should use an email verifier to verify all the email addresses in your inventory to reduce and eliminate bounce. Verification of email address lets you know that your recipient's email address is valid and that your mail gets delivered directly to their inbox. It also helps to ensure that the email does not get delivered to the spam folder.
4. Resolve Soft Bounces
Soft bounces are a minimal and temporary problem. In soft bounces, the emails do not get delivered for several reasons, such as filled recipient inbox or connection errors on the recipient's device and a host of others. In this case, the recipient's mail server may temporarily hold the mails till the problem gets resolved. Soft bounces are also bad for cold emailing; you can send a message that should be opened urgently or acted upon before the expiry date and time.
When they are temporarily on hold, they do not get delivered. By the time the problem is resolved, the mail might no longer be valid. To avoid soft bounce, you should resolve the problems that cause the mail to be "hanging." Some ways to fix soft bounces are to inform the recipient to get rid of irrelevant emails in their inbox, refresh or change their network provider, reboot their device, and a host of others.
5. Send Emails Regularly
When you send emails at regular intervals, you are increasing engagement and the relationship between you and your subscribers or customers and, at the same time, lowering your bounce rate. Regular email exchange between you and your subscribers enables you to identify which recipients do not open or even read the email, talkless of replying or acknowledging it. This way, you can reduce your bounce rate.
While sending emails regularly, ensure that you do not overwhelm your readers with too many emails so that they don't report your email as spam or leave them unopened. You can use the email verifier such as finder.io, which has email scheduling features to schedule your email in intervals and automatically send your email regularly.
When you send regular emails, email validator is likely to detect bounces or invalid emails on time. A user might disable their email address or have a fill-in box. It is when you send them emails regularly that you'll detect this and inform them to resolve it or remove them from your mailing list.
6. Allow a Permission-Based Mailing List
Another tip to make sure your email never bounces is to have an email list where every subscriber or customer has consented to receive your emails, newsletter and be part of your mailing list. This ensures that every person whose email address is on your list is interested in your email campaign. Email marketers that automatically generate emails from different sources or databases risk having a high bounce rate.
It would help if you avoided this kind of mailing list consisting of unverified and unknown email addresses because this set of people mostly do not have an interest in your mail and do not bother to check them. Instead, they label it as spam. When too many email addresses label your messages as spam, it isn't good for your cold email campaign.
Therefore, you should avoid this kind of email campaign or way of building a mail list. It would help if you also had an opt-in and opt-out feature for subscribers so that they can confirm if they want to be receiving your email and can unsubscribe at any time.
7. Adopt a Preference Center
Adopting a preference center in your email campaign allows your subscribers and customers to have more control over the emails they receive. It will enable your subscribers to change their subscription details.
Sometimes, people unsubscribe from your mailing list not because they are uninterested in the entire mail campaign but because some topics do not interest them; they prefer less frequent emails or would rather have the email sent to their personal email address instead of their corporate or official email address.
Find Anyone's Email on the Web in Seconds Sign Up 14 Day Trial
However, with the preference center, the recipients can choose and control what kinds of mail they want to receive, on what topics, how often they wish to receive the emails and a host of other tweaks. This would help you reduce the number of recipients that will pull out of your mailing list or newsletter and help you deliver the right content to the right people at the right time.
8. Track Your Metrics
Your email metrics include a series of data showing how your email recipients are interacting with your mail. This includes who your active readers and newsletter subscribers are, what email contents interest them, which links they click on, what type of attachments they download, and a host of other activities. You can use the email verifier to monitor and measure your open email rate, bounce rate, unsubscribe rate, and a host of other important metrics.
Email metrics give you the data and insight to plan your email campaign better to achieve the desired result. The email verifier such as finder.io has the necessary tools to monitor and measure your email campaign metrics to ensure your email never bounces. Not only that, but email metrics also give accurate information about how those changes have affected the performance and result of your mail campaign.
9. Tailor Your Content Towards Your Niche
Another way to ensure your emails never bounce is to have your email content tailored towards your niche. Your subscribers have a reason for joining your mailing list; it is mainly because your content interests them. You should ensure that the contents that drew their attention to your newsletter or mailing list are what you keep feeding them to avoid bounce.
When subscribers or customers no longer get the content relevant to your niche, they stop opening your mail or label it spam. For example, a healthcare organization whose newsletter contains tips on a balanced diet, regular exercise and leads to maintaining a healthy lifestyle, when they start advertising drugs and sending unsolicited emails to promote these drugs, they risk their mail being bounced.
Conclusion
In a report by Statista, in 2019, the global email users were estimated to be 3.9 billion users, and this figure is set to grow to 4.3 billion users in 2023. This shows how important email marketing is and the need to monitor it. The number of bounce rates determines the success of an email campaign.
The lower the bounce rate, the more successful the email campaign is. To ensure that your email never bounces, you should use the email verifier to monitor and track your email. The best email verifier is Finder.io, developed by project 500 apps.