Email marketing is a proven effective popular marketing tool for businesses. It helps in lead nurturing as well as customer acquisition. Companies also make use of email marketing in their cold outreach venues, and needless to say, reap benefits.
With a generation that spends half their day on smart phones and with people increasingly preferring text based conversations over call, it only makes sense for marketers to make use of digital channels like email. Studies have further proved that a good majority of even the millennial generation prefer being contacted by brands through email
This is why it is important for businesses to utilize the powerful tool of email marketing to pursue leads.
An Overview of Email Validation Tool
In order to make the most of email marketing and in order to realize its full potential though, it is important to have a good email strategy and an effective email list. In fact, one of the most crucial pre-requisites to successful email marketing is a good quality email list with valid email addresses of important decision makers, who can quickly make purchase decisions.
" Customer Loyalty is mostly about choosing the right customers." - John Jantsch
This is where email validation can help you. Companies often make use of email validation tools to find accurate and valid email IDs of the right people in companies. These tools offer well-designed features to look up and find email addresses ready to be contacted, with just first names and company names of prospects. They also offer tools to verify the authenticity of email IDs and remove or correct invalid ones in an email list. Other than that they also offer interesting analytics and reports to help you gauge the performance of your team with respect to lead generation and email marketing.
This way email validation tools help businesses in a number of ways. By cleaning up email list, validation email IDs and determining the right people to contact, they effectively improve chances for conversions. They improve open and click through rates by helping you target the most relevant people, and they ensure 100% deliverability by verifying the authenticity of email addresses. This helps companies send emails with confidence without the risk being tagged as spammy or being blocked.
What is Email Validation?
Email validation is the process by which email addresses are checked for their authenticity, validity and activity. With an email validation tool you can quickly check if a certain email ID is real or whether it exists. You can also check if it belongs to the right decision maker and whether it has any errors.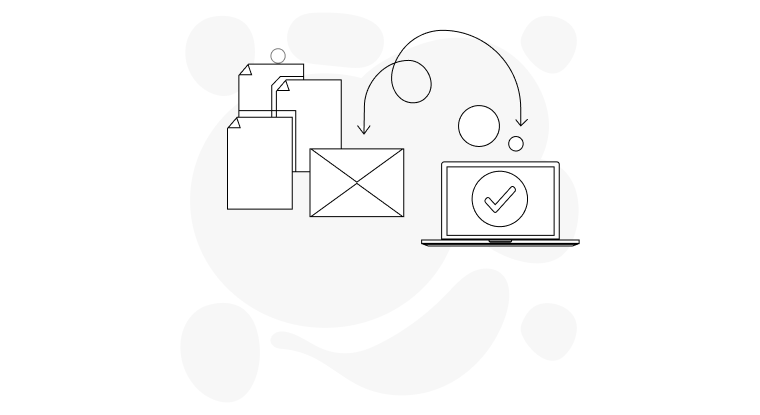 Companies typically use comprehensive email validation tools that offer features to not only check and verify emails but also find the right people to contact, along with their email addresses. Some of the most efficient tools also offer browser extensions to enable email finding on the go. They crawl through websites of prospective clients that you check out and return authentic email addresses of all the relevant business professionals associated with the company. Apart from that they also provide reliable analytics to help you make improvements.
Finder.io is one such efficient email validation tool that comes with a Chrome extension to help you find and verify email IDs on the fly. It offers dedicated features for email verification and domain search with which you can not only find the right people to contact, but ensure authenticity of their email IDs. These tools will help you clean up your email list and improve the effectiveness of your email marketing campaigns on the whole.
It also comes with an efficient email finder tool that helps you determine reliable email IDs that you can directly populate your email lists with. Over everything it also provides insightful email reports that help you measure your progress with lead generation and make improvements wherever needed.
Why Should You Use Email Validation?
Lead capturing or lead generation is one of the most challenging aspects of email marketing. This is because it requires real, authentic and valid email IDs of the right decision makers in prospective companies.
However, not every lead that signs up or is captured by opt-in tools may provide the right email IDs. Manual mistakes may arise in typing, and furthermore the people who checked out your website may not be the right managerial personnel in charge of taking purchase decisions. Some companies may also leave generic email IDs on lead generation forms assigned to mere designations, which would prove to be ineffective and unresponsive to your marketing emails.
Above all of these, some people may simply leave unauthentic email IDs for security reasons. All of these factors can cause leads captured through different means to become ineffective. There is no point talking to the wrong people in an organization as there are little to no chances of them converting into a paying customer. At same time there is no point sending emails to fake and incorrect email IDs. It will only cause your email ID to lose credibility over time and even risks being blocked by email service providers.
This is why it is extremely important to clean up email lists before sending out email campaigns. It helps boost your effectiveness significantly and improves your conversion rates.
Emarsys along with Phil Davis of Tower Data discuss 5 primary reasons why real time email validation is important in this Marketer and Machine podcast.
10 Best Features of Best Email Validation Tools
Here are 10 important features of email validation tools that will help you increase your open and click through rates greatly:
1. Bulk Email Finder
When you capture leads with the help of behavioural analytics or social media or through events and business functions, you may end up having just the first names or the last names of prospective customers. Sometimes you may only have the name of their company or their domain name. In business, you know better than to let go of possibilities like these. It is more than important to pursue each lead with the right messages, and for that you need their valid email IDs.
Email validation tools offer bulk email finding features that help you generate a list of authentic and accurate email IDs of important decision makers in the companies that you are targeting. They allow you to upload large lists of lead information, with first names or company names etc. and return a set of email IDs associated with the leads. Furthermore, they also come with integrations that let you find email IDs while you are browsing the web.
Finder.io also comes with an efficient bulk email finder tool that lets you upload prospect info in the form of CSV files or spread sheets. It generates a reliable list of email IDs ready for you to pursue.
2. Lead Mining
Email validation tools offer thoughtfully made features to help retrieve all information about prospective leads. It allows you to analyse the quality of your lead and decide whether they are worth pursuing. This way, along with providing a direct way to contact the lead, email validation also provide context and establish the grounds based on which you can further carry out marketing activities. In other words, it helps you make data driven decisions to achieve success.
Finder.io comes with intelligent lead mining capabilities that give you all the information you need to get context and improve the effectiveness of your email lists.
3. Domain Search
Email validation tools help find the right people to contact along with their authentic email addresses. It directs you towards the important decision makers in business and gives you a means to contact them directly. All of this with just the domain names of the companies you are targeting.
Finder.io also features a smart domain search tool that works to analyse websites and determine the right people to contact. It returns all the publicly available email addresses with complete accuracy ensuring deliverability. Along with email IDs it also provides relevant company information with which you can also analyse the quality of the lead.
4. Email Verifier
Email validation tools offer specific email verifier as well, that help check the authenticity and correctness of email IDs. They help pull out invalid IDs based on the syntax, domain, generic designation etc. By doing so, they eliminate addresses that are not likely to get your message delivered and clean up your email list. This improves the quality of your email list and in turn enhances the effectiveness of your email marketing campaigns.
5. Integrations
Integrations help improve the efficiency of email validation tools. They enhance their capabilities by adding extra features to offer more benefits. Browser extensions for example, allow email verification tools to check email IDs on the fly. They crawl websites of companies that you are targeting and return valid email IDs of all relevant and important business professionals within the company. This way, they go beyond simple email verification of uploaded email IDs. They take a comprehensive approach towards email finding and verification and thereby promptly support your email marketing efforts.
Finder.io offers a handy Chrome extension that lets you find all the important contacts in target companies. It populates your email list with relevant addresses and improves your chances for conversions.
6. Customization
Most email validation tools offer customizable capabilities that allow companies to fine tune the system to their specific organizational needs. Since a "one size fits all" approach does not work with technology, customizability is indeed an important feature. It allows you to add or remove features and integrates your system with other software solutions within your organization as well, improving overall performance.
7. Lead Generation Tools
Email validation tools along with their integrations offer more advanced capabilities to generate higher quality leads for your marketing campaigns. By figuring out the decision makers within companies and by giving you the means to contact them, they give you a first-hand connection with prospective leads, opening a window for you to influence their purchase decision. They also give you holistic details related to leads to help you analyse their quality and decide whether or not to further pursue them.
8. Email Reports and Analytics
Insightful analytics are another very useful feature offered by email validation tools. They provide actionable reports on how your team is performing with respect to lead generation and allow you to make real time changes for maximum effectiveness.
Finder.io offers an efficient analytics tool as well, that gives you detailed reports on the number and quality of emails searched and verified, previous search history etc. It also provides a graphical presentation of all your lead generation activities, to help you analyse your performance at a glance.
9. Data Security
Email validation tools offer top notch data security to ensure that no customer information is compromised. Since it crawls websites and pulls out important contact information of business professionals, it provides a well encrypted environment as well, for companies to utilise the info. It makes sure that all information is safe and doesn't end up being misused.
10. Easy Installation
Email validation tools are always very easy to install and use. Browser integrations can be installed with the click of a button and it will get to work instantly to find important contacts. Being online tools there are absolutely no hassles with installation or staff training. Furthermore, it allows you to generate effective email lists and craft messages to send them, and it provides contact information for use, right from your compose screens.
Bottom Line
With all these features, it is evident that email validation tools are inevitable for successful email marketing. They help generate high quality leads with better chances of converting, increase open and click through rates and in turn improve the overall effectiveness of email marketing campaigns.