There are a plethora of tools that marketers and salespeople use to reach their target audience. Be that as it may, be, email marketing leads the pack and so when sending an email, you need it to reach in front of the right person, which will improve your chances of getting a response. To remove the guesswork from your email marketing campaigns, then you need to employ the use of email search tools that will help you not only find, but also connect with your audience.
Since the inception of emails, several tools, messenger, and chat apps have been developed but very few come close to toppling the email when it comes to sales and marketing.
According to the Statista, "Number of global email users amounted to 3.9 billion and is set to grow to 4.48 billion users in 2024." To put things into perspective, in comparison, there are 3.5 billion social media users in the world. It is thus safe to say that email is king in this jungle.
Email searching is undoubtedly the most vital of marketing tools because it is most effective since there are no advertising fees, it is scalable and can be used to reach both a larger or smaller target audience, has a flexible design allowing you to use text and graphics, it is less intrusive and will provide real-time marketing. Prospective leads eventually turn into loyal clients which translate to increased sales. Emails are easy to share which can lead to viral marketing and help influence new prospects to follow your brand.
Businesses build email lists using various tools that streamline customer relationships. However, not all the emails are useful and you may thus end up spending lots of resources on false or even non-existent leads. It is thus advisable for companies to regularly conduct an email search and verify whether they are live. And we cannot emphasize enough the need of having the right emails.
"Ajay Goel, founder of GMassForGmail, couldn't be more correct when he asserted, "If you don't have the right email addresses, your cold email campaign will be a waste of time. Tiwtter"
How to Run an Effective Email Search?
There are several ways to do an email search and that include:
1. Using an Email Search Tool: It is the easiest way to look up an email address.
2. Using Twitter: It is common practice to include email addresses in a Twitter bio and tweets but hide them from bots by replacing "." and "@ "with "dot" and "at" respectively. Use Twitter advance search to search your prospect's tweets for "at" and "dot".
3. "About" and "Contact" Pages: Many businesses include a contact, meet the team, or about pages that include an email address of someone you can contact for inquiries.
4. Using Facebook: When setting up a Facebook page, it is required that one gives their contact information and for a business, it is highly likely that they will share their email address. Just visit their about page under their profile and you will likely find a personal email instead of a generic one.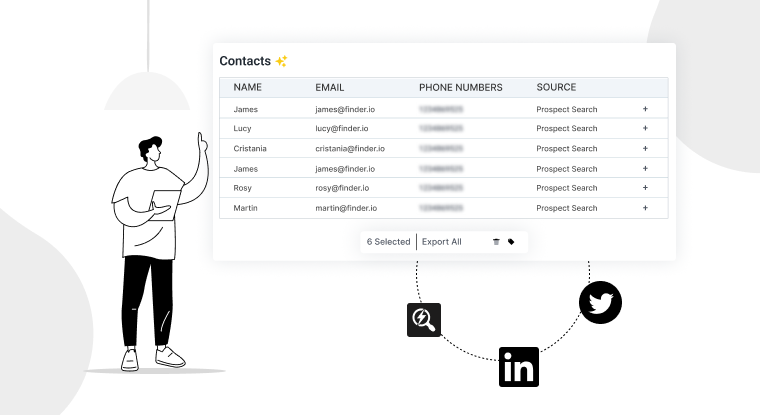 5. Exporting LinkedIn Connections: If you are connected to your prospect on LinkedIn, it is possible to get their email address.
Find Anyone's Email on the Web in Seconds Sign Up 14 Day Trial
6. Make an Educated Guess: Almost all email addresses have the same format, name@domain.com. If you know your prospects' first name, last name, and domain name, it is possible to guess their email address.
7. Google Search: Google is an advanced search engine and makes for an obvious choice of searching. Type your prospects' name and their guessed email address.
8. Author Pages: Content explorer can be used to find an author page which could be having contact information. If your prospect used WordPress settings to develop their blog, their author page is likely to have a lot of contact information. The export page also contains the author's name.
9. Company's General Email or Contact Form: Most company websites have a generic email address or contact form which you can fill for more inquiries. Most of these emails are manned by staff members but you could make inquiries about your prospect's email as long as you stated valid reasons for it.
How People Make the Most Out of Their Email Search?
Whether you are an individual or a business, an email search is beneficial. Successful people know this, and thus make use of this functionality to their advantage in the following ways:
1.Get Qualified Leads
Email marketing is one of the simplest yet the most effective of lead generation. For starters, emails are considered one of the most authentic and professional means through which companies connect and engage with existing and potential clients. An email finder can be used as a lead generator. Successful marketers use these marketing leads to build brand awareness. Once marketers get ahold of a new lead via email marketing, their job is to nurture that person's interest to the point of buying that product or service. This requires investment. With an email extractor, you can ascertain the authenticity of the email address, and once satisfied with their veracity, you can put in place measures to convert them into loyal clients.
2. Develop Their Businesses
Email search is a good place to start in looking for investors and influencers to grow your business. For example, you can use LinkedIn search to find work emails and people having common interests who would be interested in investing in your venture. Influencers have a voice in promoting brand awareness and authenticity which eventually translates to loyalty. Email search can help you find emails online and contact influencers to promote your business to a targeted audience. Similarly, with a tool such as Finder.io, find an email address of a specific person at any organization.
3. Develop a Targeted Content Strategy
Successful people use the developed email list to analyze prospect preferences to optimize their content. Targeted emails are a good way of testing what your audience responds to most and include them in your website content. Marketing teams test several elements in their email newsletters: subject lines calls-to-action and design, messaging, and personalization elements. These tests produce data that builds valuable insight to create on-site optimization. If you notice your audience is very responsive to a certain headline or CTA, then you could opt to include these on your homepage to increase traffic.
Find Anyone's Email on the Web in Seconds Sign Up 14 Day Trial
4. Drive Qualified and Targeted Traffic to Their Website
With an email search, you get more information about your leads and you use this data to target traffic to your website. We cannot emphasize enough the need for qualified traffic who are highly likely to convert to customers. Email search ensures marketing is targeted to the right audience. After acquiring prospects' email addresses, successful people understand the importance of personalizing emails sent to these prospects.
In a survey by HubSpot, 38% of respondents indicated their reason for making subscriptions to newsletters from specific companies as "relevance".
Newsletters' content should be tailored to their interests. Personalization can be created by giving your prospects the choice of emails to receive. This way, the marketing team can create content tailored to each segment of interest to ensure subscribers receive only what they want.
5. Hunt Down the Right Talent
In this day and age of cut-throat competition, businesses are always on the lookout for top talent and if this means poaching them from where they are working, so be it. But you also have to be civil and discreet about it. With just the URL or company name, you can find the decision-makers within the company your prospect is working with and you can use that to trace your prospect.
According to Forbes, "Not being able to locate and hire the right talent is a problem bemoaned by many an employer of late."
Do not be part of this statistic especially when you have a tool such as Finder.io to help you locate and contact the best talent.
6. Build Resourceful Relationships
A good email search tool will enable you to build lists and contact persons of interest to build resourceful relationships. These resourceful relationships are what could grow to investors, customers, or sources of viral marketing for your business.
7. Turn High-Performance Emails into Web Content
Creating targeted email newsletters to your list of prospect emails reaps double benefits. Successful people understand the need to focus on unique content that their target audience will find relevant and not get anywhere else. Understanding the areas of interest of your audience will help the marketing team create more original content that is not only targeted but uniquely available to only their audience. Testing responses after a newsletter rollout is vital in gauging the performance of each newsletter. High-performing newsletters can be republished on your website and blog to further increase traffic on these platforms.
Find Anyone's Email on the Web in Seconds Sign Up 14 Day Trial
8. Connect with the Target Audience
Some email search tools such as Finder.io enable domain email search. With this functionality, you can get the email addresses of key employees in the company you are targeting. Email search enables you to gather authentic email addresses and refine your scope of the target so that emails reach exactly the people you intend to engage.
9. Get Insightful Reports
Successful people use the data generated by emails searched to make informed decisions and make changes to optimize processes such as marketing and sales.
10. Have a Database of Verified Emails
Say goodbye to second-guessing your subscribers' list and start sending emails with confidence. It is important and viable that your marketing team succeeds in their campaigns and success comes through ensuring emails sent reach prospective leads and convert them to customers. Having an email verifier is sure to increment your marketing impact and conversion rates.
11. Encourage Social Media Sharing
Email searching ensures you get a list of potential targets. Getting your uniquely tailored content directly in front of your target audience will encourage the chances of it being shared on social media platforms like WhatsApp, Twitter, and Facebook. At the end of each newsletter, you should encourage your audience to share the content on their social media channels and create links to facilitate sharing. Social media sharing increases positive brand mentioning, increases link opportunities, helps build valuable partnerships and increase search visibility.
12. Increase Engagement
Having a segmented email list means that you understand your audience's behaviour and thus curate content for each segment that will excite and interest them. It thus goes without saying that your audience is likely to engage more with your content; a trick that most successful people have on their sleeves. With more traffic on your website and blog, you can now work towards increasing time on page and decreasing exit rates which will in turn increase conversion rates, which is the ultimate goal for many marketing campaigns. The more you drive your subscribers towards relevant content and increase the time spent on your page, the more you increase your brand visibility.
13. Use Bulk Email Finder
Successful people save time by importing and searching bulk lists. Tools like Finder.io have made this process so easy as you can get access to hundreds of email addresses with the click of a button.
Conclusion
Finding your prospect's email is a great step in the journey to growing your business and attaining your email list is only one step toward effective marketing. Successful people use email finder this list to create targeted content and personalized email newsletters to increase targeted traffic to their websites and blogs. Uniquely tailored and relevant content for your target audience increases engagement and social sharing which ultimately improves your search and brand visibility.