Sending out emails to prospects can be challenging since you must first search for each person's email address. This will take forever, and it will also easily lead to burnout. Imagine repeating the same process every day for thousands of clients. The solution is to use domain email search for growing your email lists.
How Does Domain Search Help in Building Email List?
Domain Search is a versatile search engine that it tells you how to get email addresses from any domain. Businesses can use this feature to find the contact information of potential clients. Since most companies have an online presence, you can easily use the domain email search engine to find their contact information.
Email lookup is tracking down the owner of an email address by tracing the domain and checking the WHOIS and DNS records. Whether you want to do it manually or with an email checker, you can rely on the tools for marketing and reaching prospects.
There are two types of email addresses, work and personal. Businesses assign work emails to their employees, and free email providers host personal emails. But it can be done if you use these methods.
1. Use Domain Search By Finder.io
The Domain Email Search feature by Finder.io lets you find email addresses from a website domain or company name within seconds. With this feature, you can easily connect to the decision-makers using just the URL and name. You can discover verified addresses of target companies, connect and engage them, and improve your leads.
Find Anyone's Email on the Web in Seconds Sign Up 14-Day Trial
The engine searches the internet for the verified address of the person you want to contact. Besides uses for a single email address search, you can use Finder.io to search for bulk domain lookup. You can also import your domain list to search on multiple targets simultaneously.
Apart from finding email addresses, you can use Finder.io for various other functions. They include:
A. Email Finder
Locate and extract email addresses from various web pages. You can find B2B prospects by searching for a specific person at an organization to know where to send your emails. You can quickly generate quality leads and connect with key stakeholders.
B. Lead Mining
Extract updated information about a person or organization and advance your professional score by mining leads from LinkedIn and Google. The LinkedIn email scraper tools find business and personal email addresses, phone numbers, and LinkedIn connections.
C. Email Verifier
Verify email addresses faster in bulk with the email verifier software feature. You can accurately verify hundreds of email addresses in a few seconds to reduce bounce rates.
D. Manage Lists
Enhance productivity within your organization by segregating email lists and connecting with them accurately. To make your email campaigning easy, you can segregate your leads and group them into categories.
Finder.io provides an advanced company search feature to get accurate information about any company or individual using smart filters. You can discover your top prospects and create new sales opportunities without manually finding and filling email addresses.
2. Create Email Lists with GMass
GMass is another powerful email outreach tool that lets businesses run email campaigns from their Gmail inbox. Because of its mass emailing features, Gmass is a popular chrome extension for employees of giants like Twitter, Facebook, Google, etc. You can use GMass to send your business google account emails to your subscribers or target audience.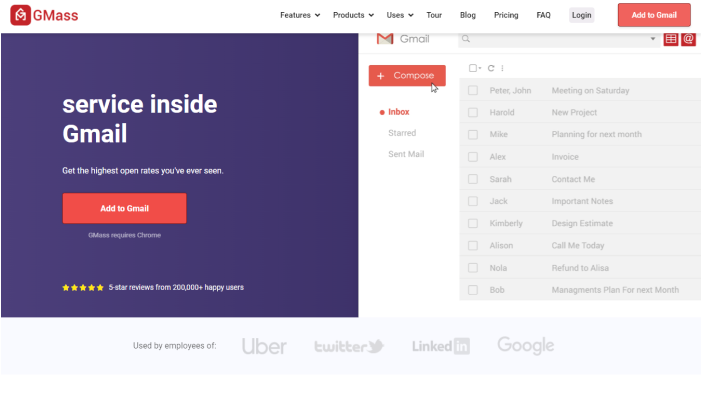 Prominent features of GMass include:
A. Email List Builder
This feature lets you add contact lists to your email without manually typing out each email address.
B. Mass Emails in Gmail
Send mass and cold emails in Gmail. Gmass converts regular Gmail into a powerful cold email platform to send email campaigns from Gmail with the highest open rates. The cold email features include click tracking, open tracking, scheduling, and mail merge personalization.
C. Mail Merge With Google Sheets
A Gmail mail merge is another way to create personalized emails for thousands of recipients simultaneously. Instead of building a Gmail template for your mail merge, you can send multiple emails with Gmass.
D. Automatic Follow-Up Emails
You can set automated follow-up emails to increase your response rates after sending email campaigns. You can also schedule emails to be sent at a future time. This feature is available for individual and mass emails.
3. Try Manual Methods
Another way to build your email list is to fill out your emails manually. For example, you can check out about us, contact, and author pages to get prospects' email addresses. However, unlike using an automated tool like Finder.io, you will need to do the heavy lifting yourself.
Find Anyone's Email on the Web in Seconds Sign Up 14-Day Trial
Alternatively, you can try Google or Facebook to find email addresses for blogs and companies.
As you can expect, this process is cumbersome and time-consuming. The idea with manual email list growth is that you need to search the internet for specific addresses of prospects and manually include them in your list.
Conclusion
Targeting key prospects with their emails is more accessible with the best email finder software. These apps have the best-in-class email finder, email verifier, and reporting features to improve your lead generation. You can easily mine information, create lists, and connect with your target audience.